Regular price
Rs. 799.00
Sale price
Rs. 449.00
Unit price
per
Sale
Sold out
Bamboo Lifestyle / Running Socks
"My feet are heating up in my runs"
"My socks are… boring!"
Leave these worries behind and fall in love with our Cushy Stride collection. Your feet deserve the perfect running socks you that would love to wear for your runs and cycle rides.
Performance
Our premium running socks make a great and fun addition to your workout gear (cycling, gym and cross-fit) and also will be super comfortable for every day wear
Best of both worlds - proprietary blend of moisture wicking fabric
We use a proprietary blend of natural and synthetic fibres to extract benefits of both – strong moisture-wicking ability of synthetic and the yummy softness of bamboo
Socks that cheer for you
We're cheering for you in your journey – whether it be for your training, your weight-loss targets or succeeding at your workplace. You've got this! 😊
Superior arch support:
Arch support to improve foot arch fatigue and keep socks in place for an improved and secure fit.
Hand-linked comfort toe seam for reduced friction
Hand-linked toe seam - seamless toe for a smooth ride for your toes minimizes chafing across the top of the foot
Medium cushioning to deliver impact resistance
These socks have been optimally cushioned to deliver impact resistance
Compression level:
2/5 (On a scale of 1-5 - 1 being low compression and 5 being high compression)
Every individual sock undergoes a manual examination to ensure its quality assurance. Enjoy!
FAQ:
Q Cushioned socks vs non-cushioned socks?
While there's a lot of theory that we could tell you – ultimately you should definitely try both and find your fit. You may also find that you like both – cushioned and non-cushioned, which you can then rotate and wear. Some theory regarding the debate:
Cushioned – buy these if you'd like to find more comfort and protection in your runs, a cushioned sock is perfect for you if blisters is one of your main concerns
Non-cushioned – these are ideal for the minimalist runners in warm temperatures in India - buy these if you're looking for more breathability and more responsiveness from your feet – a thinner sock feels more natural in your strides
Q Can I play badminton with these socks?
We would highly recommend these socks for activities such as running, cycling and regular everyday wear. You can check out our Smash Zone Elite collection for socks dedicated to racquet sports
Please note:
Check the colour and size of the product before buying.
Due to different monitors and screens, please note that slight colour difference may occur.
Happy customers, happy us. If you find any problems with our products, please contact us via email on
support@dhav.fit
and we will solve your problem as soon as possible.
Share
View full details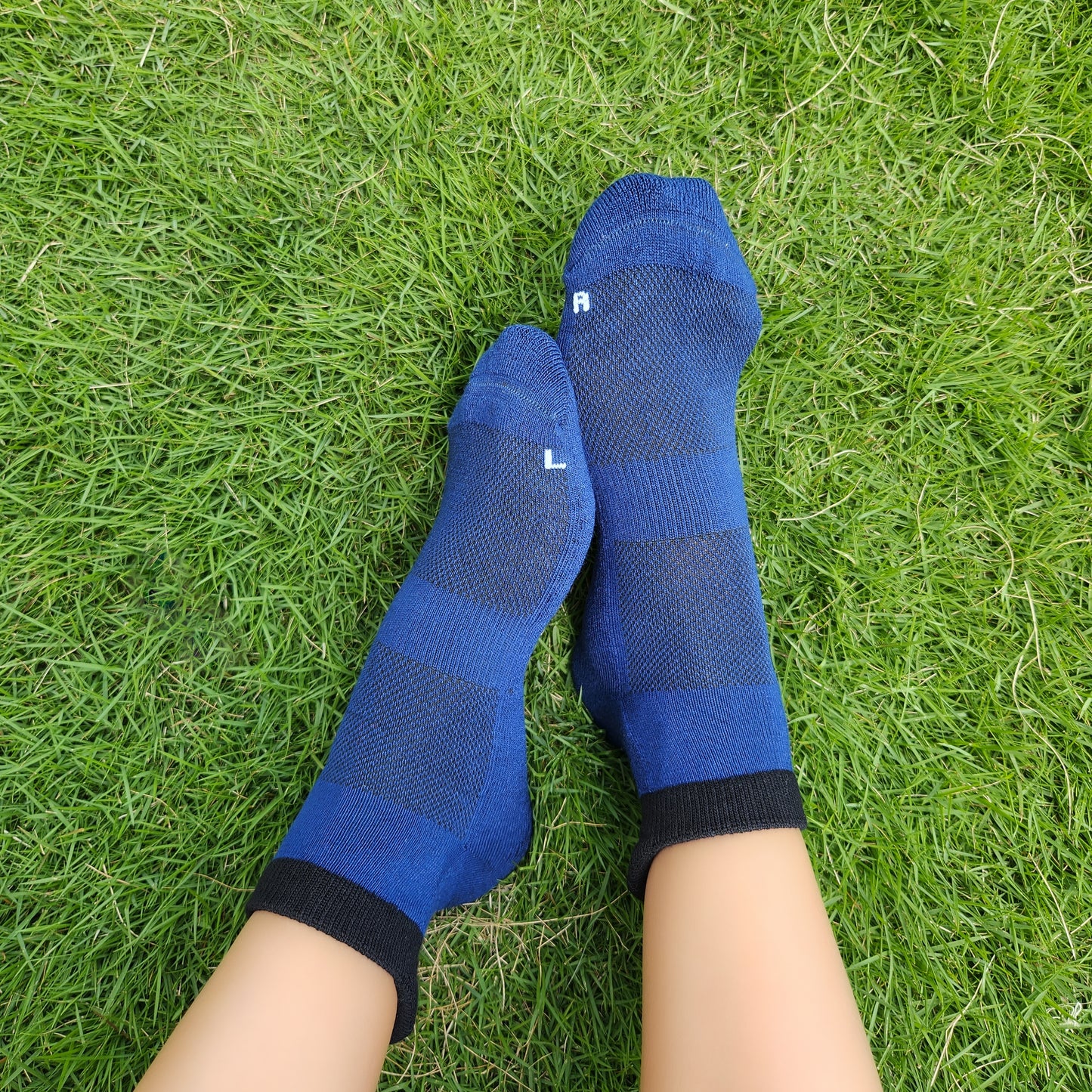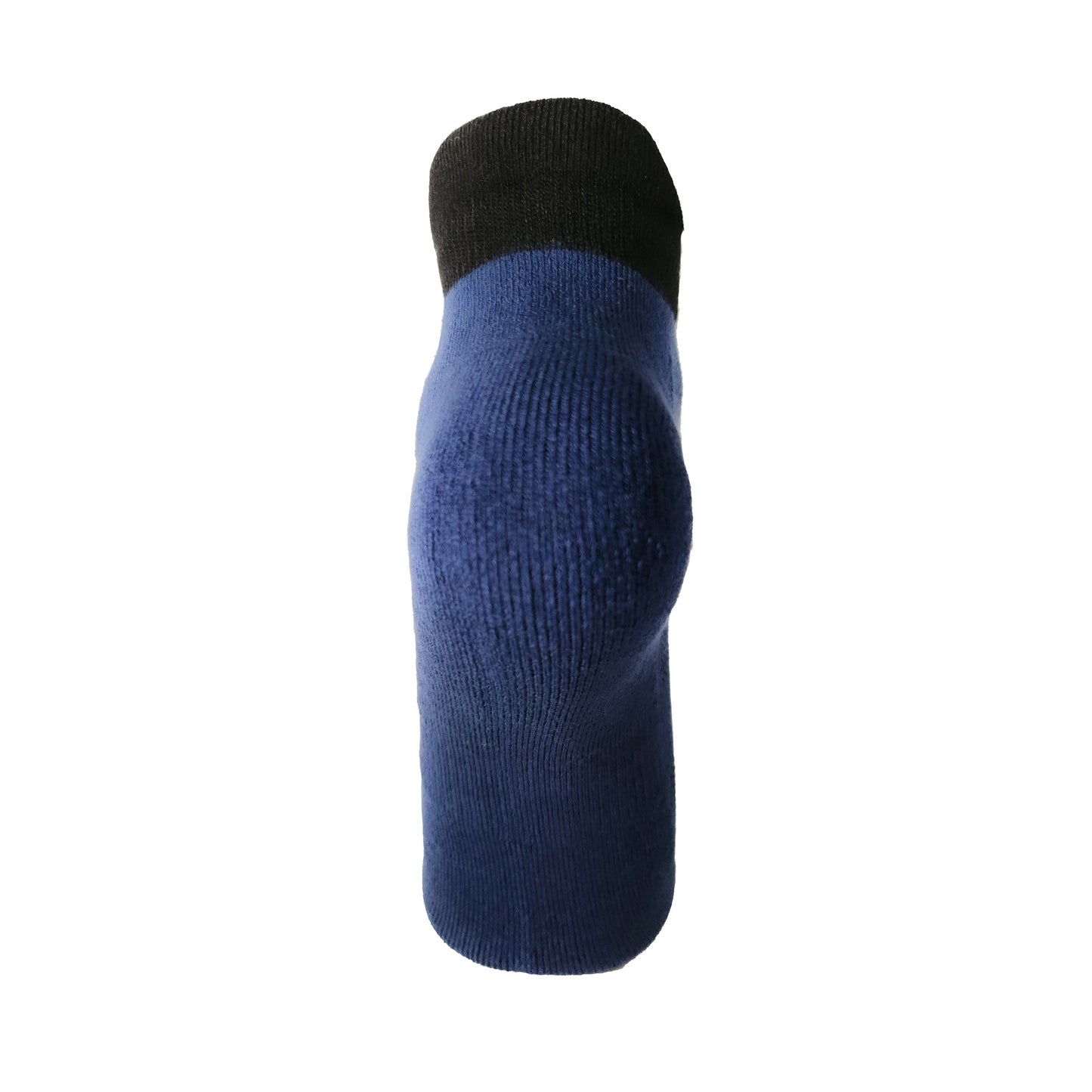 A must-have for runners
I love running on the treadmill but I never bothered with cushioned socks since I thought they were a gimmick. I purchased these socks on a whim to try something different and voila! It's amazingly good in terms of giving me a nicer and cooler feeling in my heels during the run.
Excellent Quality and comfortable
The stretching material of socks is very comfortable ; quality of the product is good.
It will be great if the manufacturer can offer formal plain socks which can be worn with formal trousers. I tried to check after finding good quality of ankle socks; but I believe same is not yet offered.
Holidaying in Company of Dhav Fit
Returned from Switzerland after a fortnight of trekking and holidaying. We carried almost all varieties of your socks. Each piece so comforting and relaxing.
We did many long cross country walks in Cushy Stride/Indigo Ignite/Bamboo. Also jogging in between. Excellent product. So much ease to the foot.
Quality socks. Very comfortable.
I purchased them recently and I absolutely adore them. I love hiking and long walks and usually get blisters which make the activity not so pleasant. Not anymore! These socks are extremely comfortable and make hiking joyful! Dhav has become my new favourite socks brand. I will be getting more of them.
Feel of Dhav socks
Very smooth & soft feel comes after wearing the socks…..loved to wear them.